Our Local Festivals

Upcoming Activities
Great events to plan around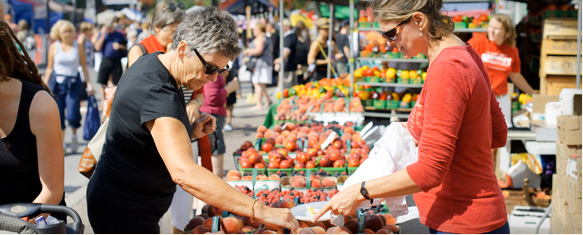 What makes a neighbourhood great? Its neighbours. And we consider ourselves to be in great company. Every year, the Market area streets are filled with international acrobats, musicians and performers during Buskerfest. The Criterion Bike Race is a draw for those with the need for speed and during Woofstock, well, the whole place goes to the dogs. Find out what's happening.
St. Lawrence Market BIA

The St. Lawrence Market Neighbourhood is the historic heart of Old York and the vibrant soul of a city within a city. Everything is here - beautiful historic architecture, exciting theatre, quaint shops, charming restaurants, unique landmarks - even the renowned Hockey Hall of Fame. A visit to Toronto is simply incomplete without a visit. Learn more.
Old Town Toronto

Old Town Toronto is the ideal blend of hip and historic. New and old co-mingle in a dynamic mix of music and culture, historic sites and shopping (especially for design and décor). Wander the Victorian lanes of Corktown. Discover the galleries and brick-lined streets of the Distillery Historic District. Learn more.
Criterion Bike Race

The Market neighbourhood serves as the backdrop for bike pedal to the metal excitement as the Criterion Bike Race takes to the streets. This year, velocity-inclined men, women and children will vie for over $20,000 in prizes.

Learn more : zmcyclefitness.com
May 27, 2012
Woofstock

Woofstock is the largest outdoor festival for dogs in North America. Quirky and fun, Woofstock is free admission to all those with two legs and four.

Learn more : woofstock.ca
June 9 -10, 2012
Buskerfest

Produced by Epilepsy Toronto, Scotiabank BuskerFest is North America's largest busker festival. Recently named as one of the Top 100 Festivals and Events in Ontario for 2011 by Festivals & Events Ontario, this annual festival takes over St. Lawrence Market neighbourhood every August for four fun-filled days.

Learn more : torontobuskerfest.com
August 23-26, 2012
Coming Up

at the Market
Walking Tours

Discover the Market
There's no better way to get acquainted with everything our neighbourhood has to offer. Experience the heritage and history of the Market and its neighbourhood with a tour from local historian Bruce Bell.
Walking tours are also available through Heritage Toronto