Ukrainian Store Dnister
Take a Closer Look
Owner:Mariya Pityk
Telephone Number:
416.368.8427
Vendor Address:
St. Lawrence Market, Lower Level B16
›Find B16 on map
Payment Methods:
Cash, Debit, Visa, Mastercard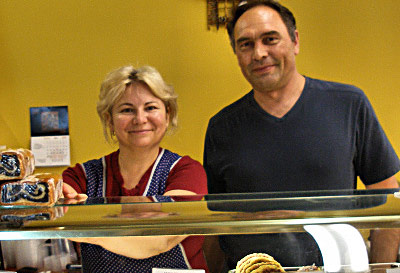 Description:

The Pityks took over the business in 2005 from friends who had served Ukrainian foods, chicken and ribs in the same location for over 20 years. Maria and Manoliy have expanded the menu and introduced more varieties of food. They specialize in home-made kobassa sausages, made fresh with quality meat and spices but no additives or preservatives.
For small meals for take-out, they offer different specials everyday. They cook most of the food on the premises, based on their own family recipes. Their wonderful kobassa is a specialty, but they also create delicious soups, stews, cabbage rolls, latkes and home-made salads. They can sell you a meal for one or a whole dinner party to take-out.

The Pityks offer catering services, and platters of Ukrainian delicacies for tasting events.